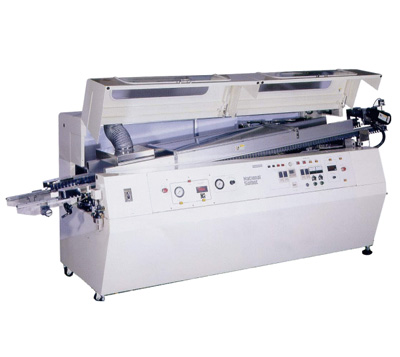 SOLBOT 1400DF
Designed to meet Lead-Free solder standards, the double wave soldering module consists of a seamless, acid-proof, stainless steel pot, equipped with internal elements, pump housing and highly stable motor. Closed loop P.I.D. controls keep a precise solder temperature.
Gears and wheels built onto the solder pot make it easy to slide in and out for maintenance.
Standard equipments includes Inlet Chain Conveyor, Drum Spray Fluxer, Pre-heater, Casting Iron Solder Pot, Double Wave, Finger Conveyor, Control System, Finger Cleaner.
SOLBOT C250
C250 Wave Soldering Systems feature a high-efficiency, low-volume solder pot and corrosion-resistant wave pumping system.

It is supplied as standard in a single-wave configuration for conventional through-hole assemblies, but for minimal additional cost can also be supplied as a dual-wave system for surface mount and mixed technology boards.
SOLBOT C350
The C350 includes a seamless, cast-iron solder pot with a specially formulated, corrosion resistant coating and is covered by a full three-year replacement warranty