OMRON VT-S500
The VT-S500 is Omron's solution to providing next-generation, 3D inspection capability at minimal cost. With revolutionary 3D image processing, the VT-S500 accurately analyses the topographical features of solder fillets to ensure PCB quality and reliability.
"OMRON" VT-S530
The New VT-S530 provides Full 3D-AOI capability, High performance, Highest First Pass Yield, Zero escape and lowest False Rejects amongst other strengths
The technology available on the VT-S530 has been proven ultra-performance on the existing VT-S730 and especially on the VT-S730-H with which it is sharing the new Image-Capture Module.
The VT-S530 Series uses a combination of Phase Shift and Omron's unique color image processing technology called ""color highlight ™ 3D shape reconstruction technology"" for the Best Inspection Quality.
The VT-S530 offers a great versatility in application as it can be used on pre or post reflow inspection, Single or Dual lane, it is 01005 compliant and has the possibility to inspect XL boards of 510x680mm.
OMRON VT-S730
The VT-S730 is an advanced and best in class 3D AOI system with multiple camera for inspection. With its 3D-SJI, the VT-S730 can easily detect lifted lead, lifted component, component co-planarity, as well as the highest quality in Solder joint inspection.
"Yamaha" YSi–V
High-end Hybrid Optical Inspection System
Performs 2 Dimensional inspections, 3 Dimensional inspections, and 4-direction oblique image inspections all in one unit! It has more than double the inspection capability of ordinary inspection systems.
2D High-speed, high-resolution 2-dimensional inspections
3D Height, and sloped surface 3-dimensional inspections (option)
4D 4-way angular camera (option)
Option of 5MP or 12MP Digital Cameras
Highest selling 3D AOI in Japan
"MagicRay" 2D AOI
Offline AOI V8 series
High precision and high speed offline AOI, V8 uses linear module with stat-of-the-art accuracy and repeatability with High stability marble platform.
Algorithm based pixel counting inspection technology makes it a comparable machine with all major brands in the world.
Auto conveyor width adjustment feature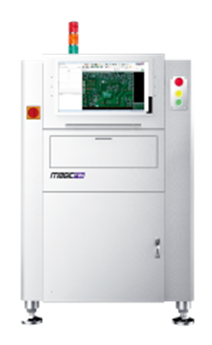 Inline AOI V5000 series
For SMT PCBA pre-reflow, post-reflow inline inspection
Granite platform, greatly improve machine precision and stability
Programmable RGB+W LED lighting source
Telocentric lens with constant magnification and low distortion response
Available in 5MP and 12MP camera versions.
Single-lane and Dual-lane conveyor configurations also available
Double side inspection Inline AOI V5300
Simultaneously inspect the top and bottom of PCB in one Machine
Save time for PCB flipping
Anti-dust protection and automatic vacuum cleaning system
Powerful inspection algorithm, easily handle all kinds of odd Shape components
Warp compensation solution