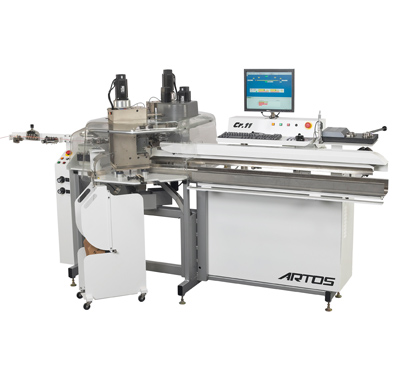 ARTOS CR.11: AUTOMATIC CRIMPING MACHINE
The versatile Artos Cr.11 automatic crimping wire processor is engineered to handle high and low volume runs and a wide range of wire types. Combine the speed increase with digital, programmable servo-driven termination units and a quick-change cart system, and you've got a machine made for maximum performance.
ARTOS CR.22 : AUTOMATIC CRIMPING MACHINE
The CR.22 offers up to four processing stations for a wider range of end of wire applications including terminal crimping, weather seal application or wire end twist and tinning.  Digital servo driven CR.22 offers unique set-up features designed to shorten the machine set-up time, allowing for processing both large batch size and high mix production runs.
ARTOS MTX-HD : HEAVY-DUTY LARGE WIRE PROCESSING
Take on your toughest large wire applications with precision, speed and power with our MTX Heavy-Duty Large Wire Processor. Specially outfitted to process heavy duty wire, this unit features a heavy-duty wire straightener, a heavy-duty feed drive system, and a large wire guide kit. Robust heavy duty feed drive, cutter head and grippers allow for processing of large wires up to 12 mm in diameter.