INLINE
MATRIX X2
The X2 is an advanced In-line X-ray inspection system designed for high-speed automatic inspection in production lines. Transmission X-ray technology is combined with patented Slice-Filter-Technology (SFT) for double-sided PCB assembly and component inspection.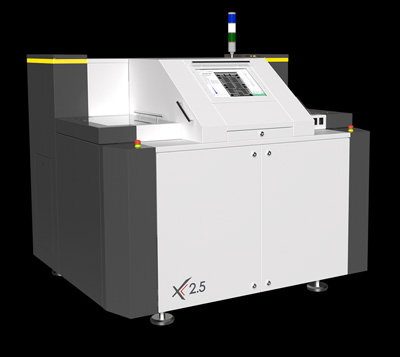 MATRIX X2.5
The MatriX X2.5 is an automatic inspection system designed for sophisticated high-speed inspection in SMT production. The X2.5 movable detector axes allow high-speed off-axis image acquisition from different angles and directions with maximum image quality and resolution.
MATRIX X3
The X3 is an automatic X-ray inspection system featuring combined Transmission and 3D-Technology for sophisticated high-speed inspection in electronic production. A newly developed 3D reconstruction software generates slice images for 3D analysis of solder joints. Main applications are double-sided boards with critical overlapping areas.
OFFLINE
MATRIX XT-3
The XT-3 is a high-resolution manual x-ray inspection system designed to address fast intuitive operation, low volume production capacity, and advanced failure analysis for SMT production inspection and quality control protocols. Includes Maintenance free sealed X-Ray tube and digital detector technology
MATRIX XT-6
The XT-6 is a highly flexible X-ray inspection system featuring a parallel-kinematic Hexaglide manipulation unit that allows extreme off-axis X-ray transmission in the smallest of space with maximum speed and in high resolution. This technology is especially suitable for high-quality X-Ray analysis of electronic assemblies as well as material analysis of parts, where flexible part manipulation with multiple inspection angles is needed.