Minimat ED Screwdriver
Digital A/C Electric Screwdriver with electromagnetic shut-off clutch . The torque adjustment is done comfortably direct on the screwdriver: Just Plug and Play!
This innovative screwdriver is especially well suited for workstations with ever changing tightening parameters. Its use in the controller- and switchboard construction is just as feasible as in an industrial recycling facility, in the mass-production assembly as well as in repair operations.
DEPRAG HANDHELD SCREWDRIVERS
TORQUE RANGE FROM 8 Nmm to 500 Nm
DEPRAG handheld screwdrivers are designed to fulfill the highest requirements for the industrial assembly. DEPRAG handheld screwdrivers assure maximum process reliability for every configuration level. The MICROMAT/MINIMAT screwdriver is one of the most popular tools on the market, especially due to its Ergonomic design, the slender construction and the low weight.
Depending on the application, the user can choose between a straight design for vertical screw insertions, pistol grip design for horizontal assembly and angle head design for confined spaces and high torque requirements.


Our customers can select from seven different basic types:
EC-Servo screwdriver with integrated transducers for torque & angle
Direct measurement with highest level of precision


EC (current controlled tool) screwdriver with torque & angle monitoring
Indirect torque measurement through motor current


EC-Servo screwdriver with integrated transducers for torque & angle
Direct measurement with highest level of precision


Cordless current controlled screwdriver with torque & angle monitoring
Electric screwdriver with magnetic shut-off clutch


Pneumatic screwdriver with mechanic shut-off clutch


3% accuracy

on final torque. With/without function control.


Electric screwdriver with mechanic shut-off clutch
3% accuracy on final torque. Basic electric tool. Alternative to pneumatic.


Cordless screwdriver with mechanic shut-off clutch

DEPRAG STATIONARY SCREWDRIVERS
STATIONARY SCREWDRIVERS WITH ELECTRONIC DRIVE fulfills the highest demands for the industrial assembly process. DEPRAG screwdriver spindles are extremely small and are simple to integrate and offer a high degree of flexibility by being freely programmable process reliable through comprehensive analytics.
THE PNEUMATIC SCREWDRIVER SPINDLES feature an extremely robust design and the highest torque accuracy. Using our special designed shut-off clutch, guarantees a torque accuracy of 3% standard deviation, independent from the screw joint. In many cases and under suitable conditions, it is possible to achieve an even higher torque accuracy and a Cmk value of ≥1.67 even at a tolerance of ±10% can be reached. it is possible to additionally control the screw-depth and the shut-off of the screwdriver.
FEEDING TECHNOLOGY
FOR MANUAL AND STATIONARY USE
The timely presentation of the necessary fastener for a particular product assembly is an essential component of the productivity and availability of your assembly process.
DEPRAG feeders supply components as well as their necessary fasteners, in the desired volume and orientation, efficiently and accurately positioned.
Feeding Technology guarantees the presentation of screws, nuts, rivets, pins, washers, o-rings and other symmetrical and asymmetrical components, and assuring the highest reliability of our feeding systems.
We offer a well-engineered and proven line of standard and customized solutions:
For the manual and stationary use,
Standardized sizes of fasteners from M1 to M16
Single, double or multiple feeding Vibratory, Sword (segment) or Tape-on-Reel systems
Transport through a feedhose or by Pick-and-Place procedure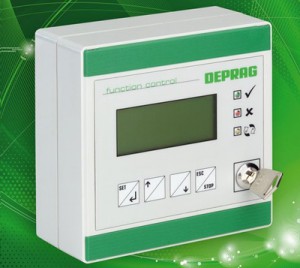 SEQUENCE CONTROLLER AND PROCESS MONITORING
SCREWDRIVING CONTROLLER
Besides the screwdriver, the screwdriving controller is an essential component of the electronic screwdriving system. According to the parameterized screw-tightening process, the controller controls the EC-drive of the Screwdriver, evaluated the measuring signals and provides all necessary operator- and documentation functions.
AST5 and AST11 are based on the exact motor-current measurement, the EC-Servo system with the controller AST30-31 and AST40 evaluates the signals of the transducer integrated in the tool.
FUNCTION CONTROLLERS – FC
Function controllers are used to the increase of the process reliability in the manual screw-assembly. They allow the supervision of each individual tightening-process and guarantee the completeness of the screw-connection on a given product.