"ITW EAE" Momentum II 100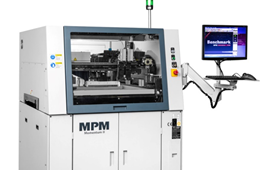 The Momentum II 100 is flexible, configurable and easy to use. With speed and accuracy unmatched by any other printer in its class, the Momentum II 100 offers the best of performance standard for high yields across a wide range of SMT printing application.
The Momentum II 100 stencil printer is a hard-working, value-priced machine utilizing the robust, reliable Momentum II series printer proven in top facilities around the world. Featuring a modest footprint that can grow with the user: add or retrofit innovative, patented features as throughput demands grow.
"ITW EAE" Momentum II Elite
The MPM Momentum II Elite is the top-performer of the Momentum II series, with the highest throughput and shortest cycle times.
The Momentum II Elite vision system is fast because it is driven by servo motors.
The Elite is configured with a highly-efficient triple track rail system featuring an input buffer, a central processing section, and an output buffer that allows staging boards for processing.
"ITW EAE" Momentum II HiE
The MPM Momentum II Hi-E (for High Efficiency) is a single-rail printer with superior throughput and cycle time. The HiE uses servo motors, rather than stepper motors to drive the vision system X, Y, and Z axes at higher speed.
Faster than steppers, servos drive the vision gantry at higher speed and thus increase throughput and cut cycle time, making the Hi-E an efficient high volume printer.
The Momentum II HiE incorporates expanded 2D inspection capabilities, featuring both the MPM patented contrast and texture-based technologies: BridgeVision™ and StencilVision™.
"ITW EAE" Momentum II BTB
Momentum II BTB leverages all the advantages of dual lane processing to deliver fast, accurate printing of high volume products such as mobile phones, automotive assemblies, PCs and netbooks.
Momentum II BTB optimizes operator utilization rates for dual lane lines, and utilization of factory floor space. Also, individual units can be easily redeployed as needs change. Available with optional shuttle conveyors.
The Momentum II BTB printer is a space-saving 200 mm shorter than the standard Momentum II printer. Configure for dual-lane processing by positioning two BTB printers back-to-back in a manufacturing line.
Dual-lane processing generates the output of two printers in the length of one.
"ITW EAE" Edison
The MPM Edison™ is ideally suited for the growing Automotive and Smart Device manufacturing markets. The Edison printer is the industries' most accurate printer with +/- 15μ @ 6σ wet print repeatability. Total throughput is lightning fast due in part to the highly-efficient, parallel processing of the stencil shuttle system, stencil wiping, paste dispensing and vision alignment system.
Edison delivers an unheard-of higher throughput than competitive printers – 15 seconds total throughput, including print and stencil wipe cycles. That's because individual print process cycle times have been significantly reduced, when possible by design, for a cumulative time savings.
YAMAHA YCP10
HIGH PERFORMANCE COMPACT PRINTER WITH Printing quality similar to flag ship models, compatible with large circuit boards and a wide variety of stencil frames.
Built-in features from high-end machine models deliver high print accuracy and quality!
Multiple functions and extreme versatility all wrapped into 1 compact unit!
YAMAHA YSP20
Built-in High–speed Dual lane & Multi-functions printer with super high-speed printing 5sec/cycle
Positioning repeatability 3σ:+/-0.005mm
Handles large PCBs L510 x W460mm, Large stencils front & rear MAX.750x750mm
HC1200
HC Series including HC-1200 & HC-1500 is a high performance quality stencil screen printer Ideal for LED production which for Accuracy it has built-in ±10 micron alignment and ±25 micron wet print repeatability (≧2.0Cpk@6sigma) with 18 seconds total throughput, including print and stencil cleaning cycles.
It provides fast, quality printing for LED battens and other applications. It can perfectly meet the requirements of fine pitch such as 0201, 0.25mm pitch.