ITW EAE Electrovert Wave Soldering Machines
In the wave soldering industry, Electrovert holds the industry reputation for having the most innovative technologies, best performance, highest reliability, and as being the best investment over a long product life cycle. Electroverts Electra, VectraElite, and VectraES2 are considered best in class for a reason!
Model: Electrovert Electra
The Electrovert Electra is an advanced, meticulously engineered wave soldering system designed for high-mass and high-volume manufacturers. Although intended for maximum throughput requirements, the Electra also offers maximum process flexibility and delivers world-class soldering results. Capable of 610 mm (24 in) process width with Short and Full N2 tunnel features and up to 2.4 meters (8 feet) of bottom side preheat and up to 1.8 meters (6 feet) of topside preheat. Various Spray fluxing technologies are also offered for customers to choose.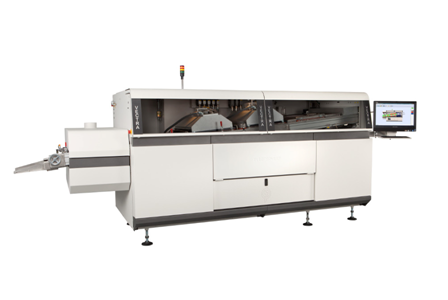 Model: Electrovert VectraElite
The Electrovert VectraElite is ideal for medium-to-high mass board assemblies where fast changeover, process flexibility, and system reliability are required. The VectraElite combines innovative technology in an accessible, ergonomic platform with a zero-defect process at the lowest possible cost of ownership. Process width is 457mm (18 in) with optional 508mm (20 in), short and full N2 tunnel features.
Model: Electrovert VectraES
The Electrovert VectraES is designed for low-to-medium mass board assemblies in a high volume production soldering environment that requires fast changeover, process flexibility, and system reliability.
Model: Vitronics Soltec Delta X
The Vitronics Soltec Delta X has evolved from a long heritage of soldering machines with thousands in production worldwide. With technology driven features developed over generations the Delta X is a reliable, dependable and cost-efficient wave soldering machine. A robust conveyor and chains keep the assembly interface with the wave equal and parallel.
Multiple lead-screws that are mechanically driven ensure parallel rails: Parallel to 1.0 mm
Solderpot blocking system guarantees repeatable positioning
Ensures repeatable interfacing of product to the solder waves
Thermal expansion systems on entrance end allows for smooth trouble free operation
SOLBOT 1400DF
Designed to meet Lead-Free solder standards, the double wave soldering module consists of a seamless, acid-proof, stainless steel pot, equipped with internal elements, pump housing and highly stable motor. Closed loop P.I.D. controls keep a precise solder temperature.
Gears and wheels built onto the solder pot make it easy to slide in and out for maintenance.
Standard equipments includes Inlet Chain Conveyor, Drum Spray Fluxer, Pre-heater, Casting Iron Solder Pot, Double Wave, Finger Conveyor, Control System, Finger Cleaner.
SOLBOT C350
The C350 includes a seamless, cast-iron solder pot with a specially formulated, corrosion resistant coating and is covered by a full three-year replacement warranty