LOEPFE HZ-2
This is the ideal cable marking unit for mobile activity. Changing to different cable and wire diameters can be effected rapidly. Because of its automated cable centering, work is greatly simplified. The unit is easy to handle, economically efficient, and produces excellent readability with lasting and oil-resistant markings. The unit operates on the proven hot stamping method using abrasion-resistant hot stamping foil.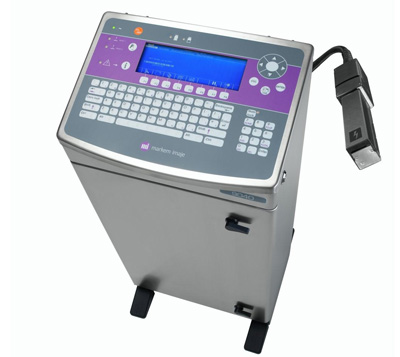 ARTOS IMAJE 9040: PROGRAMMABLE INK JET MARKER
IMAJE 9040 is available in either black ink version (9040 Master) or pigmented ink version (9040 Contrast), the Imaje 9040 series provides fully integrated ink jet printing on wire and cables. These printers are available as an integrated printing system with a number of Artos wire processing systems.
ARTOS KIP-20 : BENCHTOP WHEEL STAMP MARKER
The KIP-20 hot stamp wire marking system features wheel characters for quick change of marking codes. Each printing wheel contains the full alphanumeric character set, and can be rotated in any combination to set the required marking code. Marking is possible on most wire insulations, and for wires from 0.038-0.75 in diameter (1-19 mm). Marking foil is available in various colors to better contrast with wire insulation color.
LOEPFE RM200
The RM200 is used for circumferential markings of cables wires or cords using the proven hot stamping process. By means of pressure and heat, foil coated on one side with printing substance is pressed onto the material with a hot stamp. The unit is specially designed for short changeover from one cable diameter to another or from one color to another. The RM200 can be used as bench unit with a foot pedal or inline connected to a feeder/cutter unit. Additionally, the ring marker and the control unit are installed separately to facilitate the inline working process.
ARTOS WM-6/B : BENCHTOP WIRE MARKER
WM-6/B makes labeling wire easier with our flexible Bench Top Wire Marker. Featuring two stamping anvils with separate foil for high-speed end marking or more efficient continuous marking, this unit allows you to simply change type holders to change marking content. It features adjustable controls for dwell, temperature and pressure.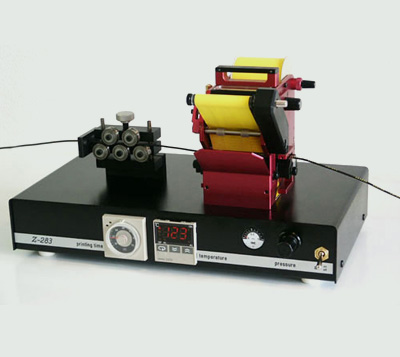 LOEPFE Z-283
The Z-283 can be used either as a normal table marking unit with a foot pedal, or it can be connected to a cutter unit. The existing interface allows the connection to products by different manufacturers. Wire straightener, foil rewinding system and wheel lock are add-ons allowing for large series production. The Z-283 is an electro-pneumatic thermal stamping unit used to imprinting cables, wires and flat materials. This hot stamping process produces high-quality, abrasive-resistant markings.
LOEPFE Z-284
The Z-284 is connected to a cutter unit. Due to the simultaneous marking of the cable/wire beginning and cable/wire end, great efficiency is obtained. The existing interface allows the connection to products of different manufacturers. One or both printing heads can be used.